Screened Topsoil

– Clean, dark screened soil, no large rock; good for seeding, gardening and planting grass, trees or shrubs.

Our Screened Topsoil is routinely tested and meets Maryland State Highway Administration specifications.

Regular, Unscreened Topsoil

– Excavated soil, with some rock, root and clay

Enriched Topsoil

– Screened topsoil, mixed with organically-enriched composted soil; great garden soil for planting and seeding and flower-beds

Fill Dirt

– Sub-soil with rocks, roots and sticks; commonly used for filling in deep areas, backfilling, or raising the grade of an area. "Select Fill" for compaction, also available.

Ball-Diamond Mix

– A special blend, just for infields
Bio-Retention Soils & Custom Blends available per your request – Just send us your specs.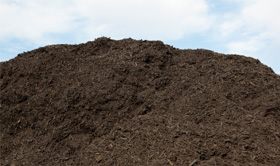 Double-Shredded Mulch
– Natural, shredded; mostly hardwoods; dark brown color
Dyed Mulch
– Red or Black: Color – enhanced for long-lasting color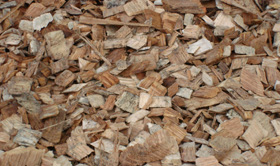 Wood Chips (playground mulch)
– Frequently used for play areas and pathways
NOTE: Color consistency may vary slightly.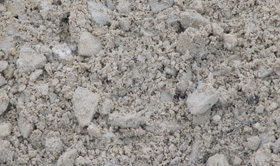 CR#6 Stone
– stone with crushed stone-dust (60% rock–40% powder) packs well; used in driveways (driveway stone), under pavers and patio block, and as fill material
#57 Crushed Stone
– (white or blue-gray color) Washed stone; approx. ¾ to 1 ¼; good drainage material can be used, landscaping, under sheds or decks, or as bedding for pipe and French-drains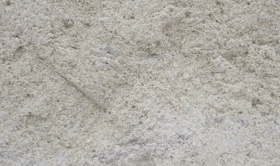 #10 Screenings (Stone Dust)
– white or blue-gray colors available; good under patio block and for paver installation, stables, horse rings, tennis courts and bike trails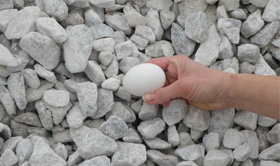 #2 Crushed Stone
– (approx. 2" to 4") Commonly used as a drainage material for landscaping projects; for septic systems and construction entrances
Rip-Rap
– (approx. 8" to 15") commonly used for erosion control and soil stablilization. Good for bulkheads and slope protection.
3/8" Pea-Gravel
– rounded pebble in shades of tan, white and brown; can be used as landscaping stone for pathways, play areas, and dog runs
¾" Gravel
– rounded stones in shade of tan, white and brown; may be used in gardens around plants or around pools, under decks, NOT recommended for driveway stone
Red Barn Stone
– (approx. ¾") reddish- brown color; frequently used in flower beds for landscaping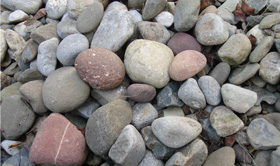 "River Jack" Rocks
– smooth, oval-shaped rocks in shades of brown, maroon, gray and tan; great for landscaping; decorative and low-maintenance
Masonry (Bank) Sand
– Fine grain sand, washed and screened to remove impurities; often used for mixing mortar, under pool liners and for play areas and sand boxes (pool sand)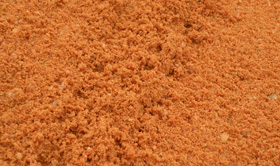 Concrete Sand
– Coarse sand with tiny pieces of gravel; used for mixing concrete or for laying pavers, brick walk-ways or patios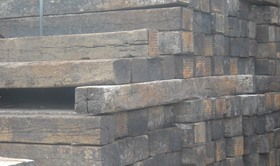 Railroad Ties
– used with creasote; good for retaining walls. Approx. dimensions: 8½' X 7" X 9". Available for pick-up or delivered.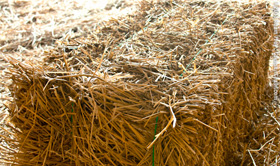 Straw
(by the bale) – good for use when seeding and/or for temporary erosion control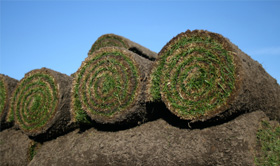 Sod
– Tall-Fescue Blend with some Kentucky Blue-Grass; our soil is cut fresh upon order and available by delivery only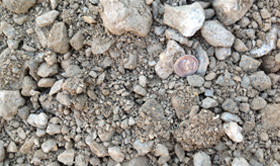 Recycled Crushed Concrete (RC6)
– Used for fill material or as a sub-base
Asphalt Millings
– Used for fill material or as a sub-base